I just placed an order for a Hale double flap dog door for my home. I was so impressed to see that you provided a discount to me because my wife and I got our 4-legged children from a rescue group! What really warmed my heart was finding out that you are also going to provide a donation to the Oklahoma Jack Russell Terrier Rescue! Reading that brought a tear to my eyes! My wife was also touched and said that she was super happy that we ordered our dog door from you instead of another distributor!

You may be wondering why we chose the Large Tall version of the door when we have Jack Russell Terriers? Well, we often have our neighbors and their dogs come visit and one of them is an Australian Shepherd who needs the added height. Although the bigger, taller door was a lot more expensive, we needed to make sure he could fit through the door! PS, he is nearly blind and also a rescue! His sister is a rescue, too!

Thank you for your kindness and generosity!

Sincerely,
Jim and Laura C. - Norman, OK 
They have a wonderful team of foster moms and dads that really help shape these dogs into family companions.  Before we could even adopt our dog they did a house visit to make sure we had a good enough environment to adopt their dog. Here's a picture of our boy Mulligan.  We love him!  Your pet door was a great addition to our sliding door for our dogs.  It is 100 times better than the one I tried to make myself last year.  It is very sturdy and is taking their abuse well.  Our dogs love it!  
Thank you again!
Brian B. - Maumee, OH
I have loved every adopted dog we have had....four to date!  What a great way to offer savings for the pet doors! Thanks so much. (Mary-Carolyn C. - Austin, Texas)
I am so happy you guys do this.  Our little Oscar is now a loved member of our family.  Thanks for being a company that supports dog rescue. Take care, (Kellie S. - Rancho Palo Verdes, California)
Jen...whatta company!! Not only do your products have a great reputation but you walk your talk in really caring for animals through your discount and donation program.  The Jemez Valley Animal Amigos is a fantastic organization and they go to great lengths to save lost animals.  Our dog has been a true delight to us and we are much richer for having Tula in our lives. Thank you so much and we can't wait to receive our door. (Dave P. - Jemez Springs, New Mexico)
Wow! that is a great program. It's good of you to do that.  I knew there was a reason to only look at Pet doors made in the USA. Thank you, (Jared - Salt Lake City, Utah)
I just wanted to say Thank You for your help and for what you and your company does for animals. The product is solid and the benefit of charity makes the high price more palatable. I was reminded in this time of unbearable cold that there are so many animals left out-of-doors that don't have the fur or constitution to survive it without incredible unease and stress. Breaks my heart. I hope Gemini Rottweiler and Pitbull Rescue is able to use the funds to help as many creatures as possible this winter. My boys LOVE their new doggie door too :). My best, Jana D. (Los Angeles, California)
Hello Jen,
Thank you SO MUCH! I think this is so wonderful that you do this - I will certainly recommend you to any friends looking for a pet door - and I really appreciated your personal note to me as well! I have two shelter mutts from Humane Society of Silicon Valley (HSSV), plus a kitten that was found feral under a dumpster - and they are the best fur-kids anyone could ask for (albeit a handful)!  HSSV is a wonderful organization and definitely one of the most forward-thinking shelters in my area.  Thank you so much for donating to them! --Christine H. (San Jose, California)
More Success Stories
Thank you! I think it is a fantastic program and already makes me feel great about buying the door from you. We can't wait to put it in our new home for our cat to have the freedom he needs. (We tried keeping him strictly indoors for almost a year but he was never happy about it.) Thanks for making a good product and having a great giving policy to go with it.
Nikki M. - South Jordan, Utah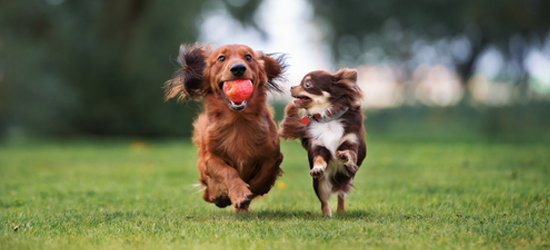 Hi Jen,
Thank you for the discount and donation to Flaw DOGS.  I am sure that any monies that are sent to them will be well used and much appreciated.  My baby girl Lily is an absolute joy in our family and pretty much rules the couch/house. I have had several dogs and all but one have been from rescue groups.  I believe the dogs know how lucky they are to be adopted as we have had nothing but wonderful additions to our family. Thank you again for your effort in helping these groups. -- Jeannine C. (St. Louis, Missouri)
I have rescued 5 wonderful pets.  One recently died; so now I have 4, 2 cats and 2 dogs.  I am also military; but decided to use this discount because it will help those little guys still out there.  The organization that I list does not euthanize any pets.  In fact, they go out and search for, and find, abused animals.  They (by they, I mean the one man who founded the organization and volunteers) have rescued 179 cats and 725 dogs, some so mauled and abused that it made me cry.  Homes have been found for 102 cats and 535 dogs; leaving 77 cats and 190 dogs who live and are loved at the Animal League property.  
Better Days Animal League
2715 Warm Spring Rd
Chambersburg, PA 17201
Phone: (866)493-3590
God Bless you and all who work for Hale for your generous and loving spirit.  It is my pleasure to be purchasing from your company. -- Dorine L. R. (Chambersburg, Pennsylvania)
Thank you so much for all your help yesterday.  I appreciate your taking the time to talk to the people who will be manufacturing my French doors.  And I love the fact that your company not only gives us a rescue dog discount, but matches that discount as a donation to the rescue organization of our choice.  I will recommend your company to my dog friends. -- Sincerely, Judy A. (Camarillo, California)
Dear Jen, This is exciting news (that Hale will make a donation to her rescue). The two sweeties we rescued have truly added much joy into our lives. I appreciate the 10% back and am thrilled that 10% will be going to the Pima County Animal Care Center. They have soooo many beautiful animals that will never find homes. Breaks my heart. -- Karen T. (Saint David, Arizona)
This is a really cool program.  Your company is to be commended.  Thanks for letting me know about the donation. - Emil S. (Savannah, Missouri)