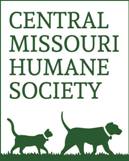 Contact Info
616 Big Bear Blvd.
Columbia, Missouri 65202
Phone: 573-443-7387
URL: http://www.cmhspets.org
Notes
The Columbia Humane Society was formed in 1943 to provide shelter and care for Columbia's abandoned animals. Originating in a little structure on Creasy Springs Road, the organization has grown into today's Central Missouri Humane Society, a regional animal welfare agency caring for thousands of animals annually and providing veterinary services for low-income pet owners.
Central Missouri Humane Society exists to prevent and alleviate suffering and uncontrolled reproduction of companion animals with emphasis on public education, adoption and providing basic veterinary services for under-served pet owners.573-443-7387