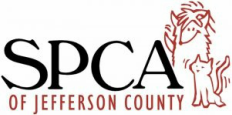 Contact Info
25056 Water St.
Watertown, New York 13601
Phone: 315-782-3260
URL: http://www.jeffersoncountyspca.org
Notes
The SPCA of Jefferson County is a non-profit organization that was founded in 1891 to help protect and care for domestic animals in Jefferson County. We are the only no-kill facility in the area, as well as being the only shelter to accept owned dogs, stray and owned cats, or small critters of any kind in the county. Our shelter also has the only early-age spay/neuter before adoption program in Jefferson county.
As a non-profit organization, our service to the community depends on the donations that we receive from the general public as well as from our varied fund-raising events.
The SPCA of Jefferson County is a non-profit organization dedicated to finding permanent and loving homes for homeless pets, providing them with a healthy environment, and promoting the humane treatment of animals and responsible pet ownership through education and community awareness.315-782-3260