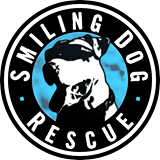 Contact Info
Tucson, Arizona 85710
Phone: 520-977-8000
URL: http://www.smilingdogrescue.com
Notes
Smiling Dog Rescue (aka S.D.R.) began in January of 2007 when Rica was asked to help out a smiling pit bull set for euthanasia at a kill shelter in Southern Arizona. Being made aware of this one endangered and innocent life led to a greater awareness of a sad reality – the enormous number of pit bull and pit bull-type dogs who too often end their lives in high kill shelters – merely because of the way they look. Never looking back, SDR has since then rehabilitated and re-homed over 1400 unwanted, stray and abandoned pit bulls, bully type dogs, as well as many other types of dogs from all over southern Arizona.
SDR is committed to reducing the number of homeless, relinquished, abandoned and needlessly destroyed dogs. This commitment has been directly dependent upon the great generosity of the system of foster homes, as well as veterinary clinics, shelter workers, other rescues and volunteers who all work together with SDR to create a network that enables as many adoptable dogs on death row to be saved as possible. We strive to save as many adoptable dogs as possible – and statistically that means the majority of dogs in danger are pit bulls.
The plight of the pit bull dog in America is currently a controversial one – because of negative stereo types perpetuated by the media, which then affects the reputation of the breed as a whole. Many factors complicate matters for responsible owners and bully dog advocates. In order to help combat the negative stereotypes, SDR strongly advocates spaying or neutering, and will not adopt out a dog that has not been altered. We are convinced that overall responsible bully dog ownership is the key to changing perceptions of these dogs from the snarling and vicious monsters constantly seen on the news, back to the all American family dog reputation they once enjoyed.
SDR believes that in order to accomplish restoring the pit bull to their former position of reverence and high esteem – it is vital to eliminate all backyard breeding, dog fighting and the inhumane treatment they suffer at the hands of people who believe the stereotypes. Focusing on the positive images there are, and encouraging and supporting all the great canine ambassadors for the breed that are out there, is the best path towards ending the negative stereotypes of these wonderful dogs, once known only for their great loyalty and good will towards men.520-977-8000